Convention heavy weekend!
on
April 23, 2012
at
8:18 am
So a busy weekend has been had with Comica Comiket on the Saturday and Demoncon on Sunday.
Comica proved to be crazy busy and we were all right packed in to the hall at the Bishopsgate Institute! I was also well shocked out the huuuuuge table I was set up with! Look!
I had hoped to have some more stock on sell but unfortunately that didn't happen. It was a good day though with some real cool artists up on the stage doing their work which was being shown on the big screen behind them.
With Sunday I took a trip out to Maidstone where I've never been before (although I want to go again as it's right lovely) and got set up with a smaller table which I figure looked a lot better – what do you think?
It was a real busy convention that also had some wrestling matches on (awesome) and I had an excellent time!
That being said, Bear managed to (again) get in to trouble!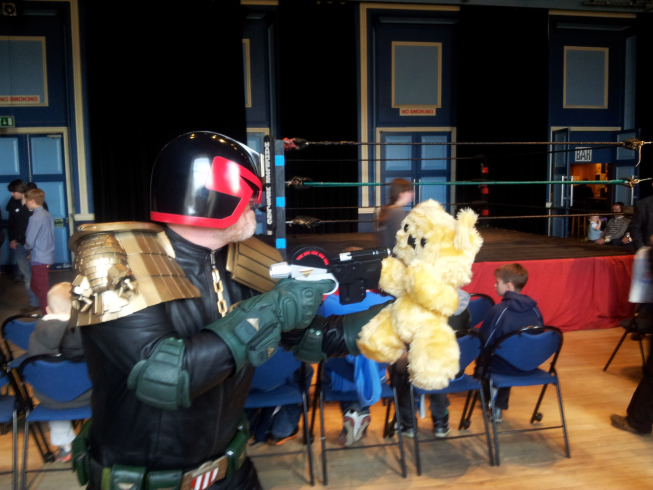 (It all worked okay though.)
So yeah, thank you to everyone who stopped by my booth at both conventions! If this is your first time here have a look around and if you're a fan, and you have access to Facebook, click on the link at the top left and you'll get any LatB updates that I send out (don't worry, they aren't that regular!)
With the conventions over for me now until July (as MCM in May is now booked out and I was much to late) I'm going to be concentrating on getting issue #6 finished off. I'll keep you all up to date with how that's getting on along with a few sneak peaks of some of the pages as they're completed.
More soon! Bear hugs!