Much belated Thoughtbubble thoughts.
on
November 26, 2011
at
6:17 pm
So a few books that I picked up and absolutely loved at Thoughtbubble.
Firstly, My Cardboard Life which I've mentioned before from having picked up some of the books from a convention I had gone to early in the year. This time I bought the collective works and it was great read from page to page. The creator, Philippa Rice, has manged to create so many textured panels thank to the use of different materials for the characters (who are lovely) and with so many funnies in each strip it's a worthy purchase to make.
Next is Jenny's Weird Friend by Shug which is published by Reet Comics. Funny, cute, weird and all round fun. Loved it! (I'm a wee bit jealous). The format of the book was cool and the colour scheme with a sparing use of colour just absolutely worked.
Lastly (and this is for the slightly older readers due to some of the potty mouth language used) was Fast and Frightening. Not only a great read but the artwork went sooooooo well with the story! It involves a Roller Derby team and not only has some great character moments but also explains to you how Roller Derby works(!) I need to go and see a match!
On top of those fine reads though I also managed to get a sketch done by Roger Langridge (for free no less) of my favourite Muppet, Fozzie T. Bear!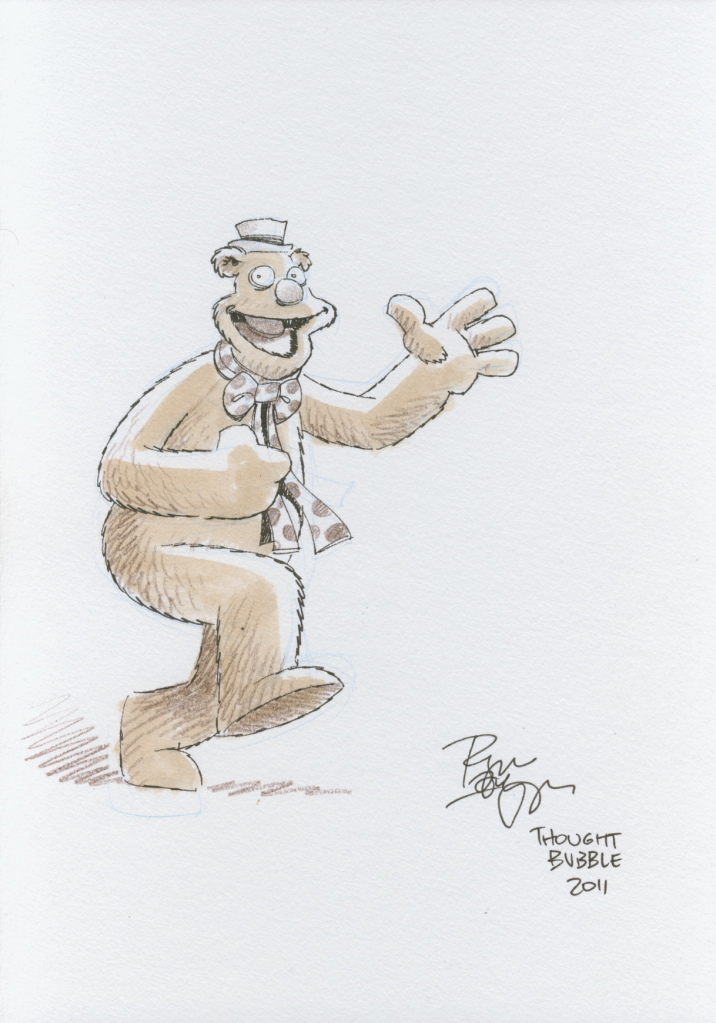 I was bouncing around the convention after getting this. Soooooo chuffed!
More soon! Bear hugs!
PS. One small thing. This should be my last Thoughtbubble discussion which is a good thing for me as I keep forgetting that second 't' in Thoughtbubble! Thoughbubble isn't quite the same is it? Sigh.