After Thought(bubble)
on
November 22, 2011
at
8:16 am
I was absolutely shattered yesterday so didn't have a chance to post anything but after a good couple of nights sleep I'm finally able to share my thoughts.
Okay, so Thoughtbubble was AMAZING!
Maybe I should say a bit more – it's the first time we've been to Thoughtbubble and didn't know what to expect but the staff were so welcoming and there were so many other cool booths on the go it was all great. Best of all though was all the cool new people I met so if you stopped by our booth a big bear hug to you!
Seriously, two days sitting at a booth can fair drain you but having folk stopping by really gives a much needed boost so really, THANK YOU!
If this is your first time here (and hey, where have you been?) then have a wee look around at the various pages. We've got issues 1 to 5 available to view (with issues #1 & #2 in colour with #3 on the way), the LatB stores, Project Bear (which has a design to print off so you can make your own bear), and my biography (um, that's probably the least interesting bit….. No really, it's true), and also previous posts talking about random stuff.
Also, if you like what you see (and you have Facebook) why not click on the Facebook link and become a fan which will allow you the latest LatB info! I promise you won't get bombarded with updates but if any big news about Lloyd and Bear comes about you'll be the first to know!
This post wouldn't be complete without a few pictures so here we go!
This was all the stuff we were taking up to Leeds. The suitcase was crazy heavy and I now swear that I won't take as much stuff with me next time (it really hurt to drag the case over the wobbly paving slabs).
Our booth being modelled by my fellow booth bear.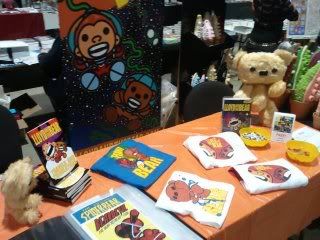 A close up of what we all had on our table.
And a shot of poor bear getting in trouble with a Storm Trooper……… (it's okay, he quickly used Bu Fu and gave that pesky Trooper a good slapping afterwards).
Meanwhile Bear 2.0 was having better luck getting some attention from members of the Hot Wheel Roller Derby team!
Speaking of Bear 2.0 – check him modelling the LatB clock!
The clock has a diameter of 9.5" (which I mention because I didn't think it would be that big) and is available over at the LatB store.
By the weekend I hope to have waded through all the various comics and cards I picked up at Thoughtbubble and will post some comments about that.
More soon! Bear hugs!