Hungry bear…..
on
November 10, 2011
at
12:11 pm
Bear 2.0 needs a good meal doesn't he?
Maybe it's just the stress of Thoughtbubble next week but the poor guy needs to eat! At least Bear (the original) is on hand to offer some support!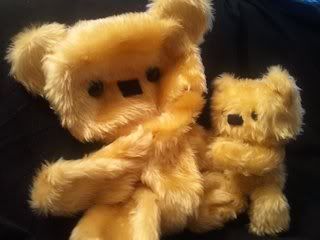 Yup, Bear 2.0 is almost complete with only the stuffing needing to be done. A week ago I really wasn't sure I would get this finished on time but as I had already completed the head and arms there really wasn't that much left to do thankfully.
That being said, I still won't know if I've done it all correctly until he's stuffed and standing up but fingers crossed on that. Eek!
Either tomorrow or next Monday I'll post some pictures of the completed Bear.
Next week I'm planning on redoing the banner for the webpage and also needing to get out at some point and buy some sweets for the LatB booth at Thoughtbubble. Yup, free sweets! I really can't wait until next weekend! EXCITED!!!!!
More soon! Bear hugs!