Some bad news….
on
June 14, 2011
at
8:13 am
Okay, best that you take a seat for this (and maybe have a cup of tea and some biscuits at the ready – I certainly needed to!). Anyways, I came home on Thursday evening to find that the hard disc had died on the PC and worse still I hadn't made a copy of the work I had done for issue 6! (Oh, and there are two different methods of backing up used on my work and I hadn't done either – how stupid am I?)
Anyways, I was two thirds of the way in and I really don't see my being able to get those pages redone along with the remaining eight in time for the proposed 27th of June launch date. Added to this I'm aware that I need to get some work done for the Thought Bubble convention in November plus I have some other work to do rather urgently (which I'll tell you about soon) aaaaaand I really don't think I could go back so soon and redo the lost pages….. so yeah, I'm afraid issue 6 has to be put on hold and won't come out now until September (which was supposed to be the release date of issue 7).
If I'm fast with all my other work I will try and speed through issue 6 and get it out earlier. My hope is that I can catch up with myself in time for issue 8 coming out in December.
You know, although I've had the whole weekend to get my head around what has happened it's only writing this that it's all really hitting me. Sad times.
I really hate missing deadlines and I swore I wouldn't do it but unfortunately with how things are it can't be helped. That being said, hopefully when I tell you what's going on behind the scenes in the Lloyd and the Bear universe it'll make up for the delays. There is some really good things coming! Promise!
As my priorities have changed I'm also afraid that I'll be stopping the daily sketches. I really do hope that you've enjoyed them and if I have the chance I'll pop a few sketches up every now and again. Below is the last of the daily sketches for the moment. This was done back on that bad, mad, saaaaaad Thursday (actually, Thursday was going rather nicely until I found out about the PC but there you go).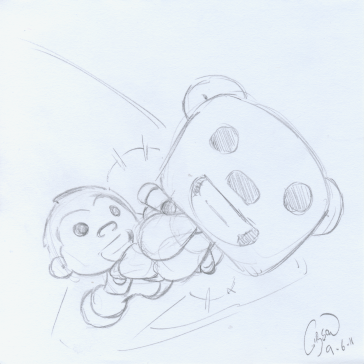 It's essentially a reworking of one of the t-shirt designs – hope you like it!
Speak to you soon – bear hugs!