Day 7! A weeks worth of sketches!
on
May 11, 2011
at
5:02 am
So yeah, I've managed to do a weeks worth of sketches – who would have thought? As for issue 6 the first two pages are complete but yeah, I need to get a move on.
As for today's sketch I figured I would go with a Shoal for a change and yes, he's gardening (or trying to at least…..).
I'm currently trying to grow some lettuces, herbs and other bits and bobs at home and having serious problems with the lettuce 'bolting'. This is now the third attempt so hopefully I've learned a few things from the previous two tries (well, I have at least learned the term 'bolting' so that's summat). But yeah, it's kind of at the forefront of my mind just now so the Shoal in the sketch pretty much expresses my frustrations as trying to get them plants to grow!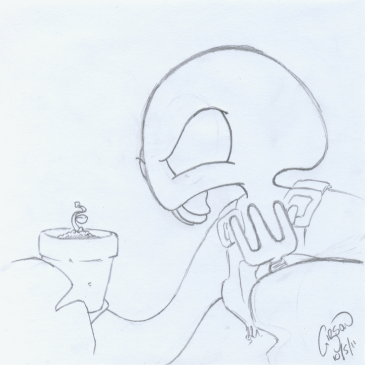 I'm thinking that this sketch a day project has the chance of becoming autobiographical. Worrying…..