The awesome weekend that was MCM London!
on
June 1, 2017
at
8:53 am
It's been a few days since the big weekend that was MCM London and I'm still bouncing from how great it was!
First and foremost I had so many great chats with people who stopped by our table! The weekend seemed to fly past which was awesome! So yeah, thank you if you stopped by!
Also, I have to admit with the reports of extra security that I was – maybe bizarrely – getting a bit INsecure on the run up the event but with the security in place along with the great MCM staff any fears I had were quickly put aside!
And hey, I tried some new ways to promote my table and were all (I figure at least) positively received! I really was having a go at a few different things that had been knocking about inside my head like Bear advertising the books (Bear v4.0 Avengebears: Age of Bear as I like to call him) and the free stickers…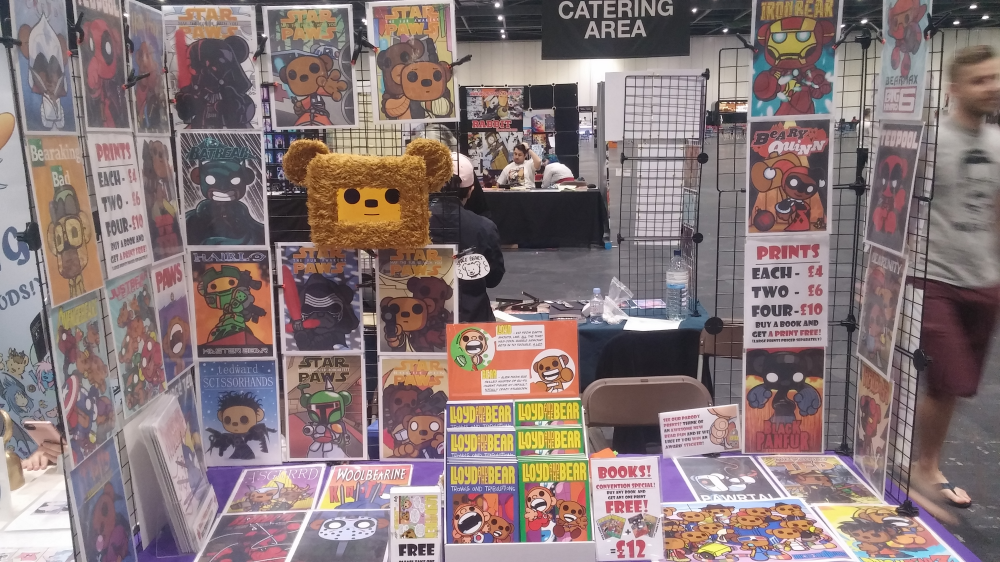 …Oh yeah, and the 'hats' (I'm totally putting quotes around that as they're not really hats but then I don't want to call them fascinators)!
I have to admit, I can get a bit quiet at conventions as people come over and I don't want to pounce on them or disturb them as they look about my table but the 'hat' really got me to open up a bit and be that bit more chatty which I really enjoyed (and I hope all of you who stopped by enjoyed my chat too – really, did you?!?)
But yeah, I want to do more 'hats'. And more books! And more prints! And more everything!
Again, big thanks if you stopped by at MCM and I really hope you all had a great time too!
Do keep coming back to see how I'm getting on with all things Lloyd and the Bear related – like setting up the online store (totes need to get that done) and don't forget that you can follow us on Twitter and Facebook if you're not already!
More soon! Bear hugs!