Time for a summer blockbusTED movie picture!
on
June 16, 2015
at
6:08 am
So I watched Jurassic World last week and absolutely loved it! So much so I had to make a parody of it! Yesterday I previewed the print on both Facebook and Twitter (are you following us from either of these apps?) but there's been a few changes since! Here is the completed version of my Furassic World picture!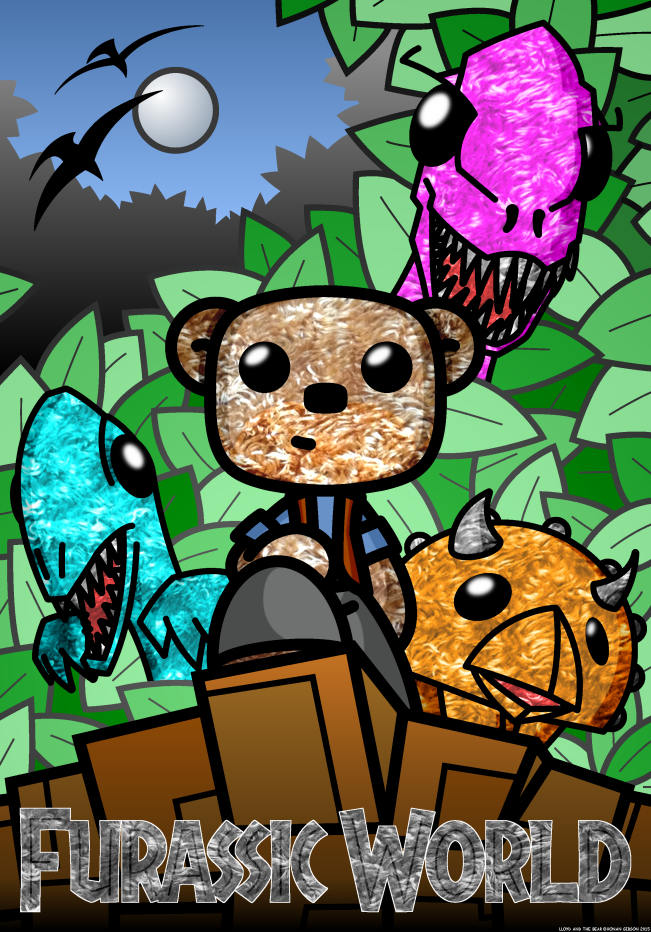 There's a couple of firsts in this picture! It's the first time I've used fur for the colouring (but certainly not the last) which was done using some of the spare material from my Bear puppet. Secondly, it's the first time I've added some light reflecting on Bear's eyes. This was something I thought of doing in the comic but I realised that I would have to highlight Lloyd's eyes as well to make them match up and the look just didn't feel right to me. In this picture though, I felt it was needed as all the dinosaurs had highlights and Bear just looked a bit flat otherwise.
Tell you what though, although I've had people saying it before I've never realised before now how much Bear looks like a Funko Pop! figure!
So what do you think of Furassic World? Hey, what do you think of Jurassic World? Let me know!
I'm off now to work on a long standing parody I've been wanting to do!
More soon! Bear hugs!