So what's happening this weekend then?
on
July 11, 2014
at
5:39 am
Okay, so some weeks ago upon hearing that Carrie Fisher was to be at London Film Comic Con I decided to go against my promise of not attending (something to do with previous management which has since…… yeah, stayed the same) and give it one more go.
On Wednesday morning, having still not received any instructions on setting up for the weekend I called the organisers and finally got some instructions. Unfortunately, there is a rather annoy policy in place (which is not told to you when booking the tickets and nor does the rule seem to apply to all) that you have to be set up by 6pm on the Friday evening or otherwise they give your table away! For those of us with a day job that aren't able to get away this causes a problem and having told the organisers this and that I couldn't make it at that time on such short notice I was told that I wasn't welcome.
So yes, due to this we are not able to come along this weekend which is gutting as there were already a good few people expecting to see us and so many things we had planned to do!
This also leaves us with wondering what we are going to do this weekend and is there is any way that we can still get involved somehow……. AND IT TURNS OUT THERE IS AND YOU CAN HELP!!!!!
All weekend keep looking out for #lfcc2014gota (London Film Comic Con 2014 Gave Our Table Away, obs.) and see what Bear is up to. Oh, we have plans. BIG plans! Okay, maybe not BIG big but, y'know, big. Also, it's all a bit weather depending….. But yes! Look for the hashtag and see photo updates throughout the weekend of Bear! Please also let all your friends know – I would love to see this trending (is that the right term???)!
Just as a teaser here's Bear marking off this weekends event on our calendar. Oh, what's that showing for next weekend? Manchester? Oh, that's right – MCM MANCHESTER!!!!! Our first time as well so yeah, really looking forward to that!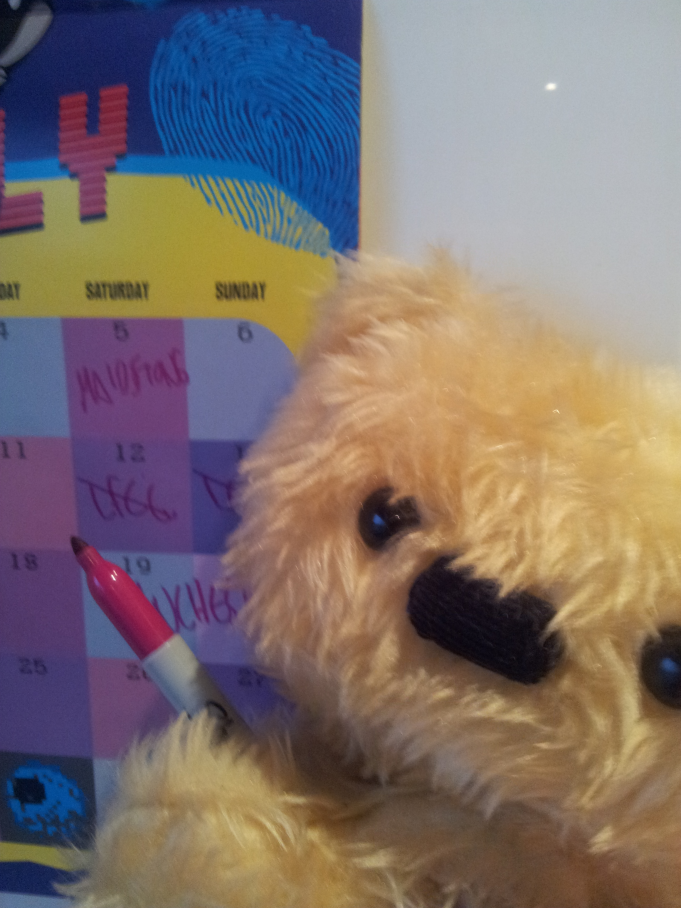 More soon! Bear hugs!
PS. And yes, that's the Spongebob Square Pants 2014 calendar. Spongebob is cool.