Little bit of commentary for issue #11
on
October 5, 2013
at
4:49 pm
Okay, so it's been a week since the release of issue #11 and as I said back then I would be back with a few comments about this book and how it tied in with previous issues.
I have to admit that this is much more for my own sanity so please bear (hee hee, pun) with me.
Oh, and yeah, if you haven't read the book go and read it! SPOILERS!
Okay? Right, so lets get to it!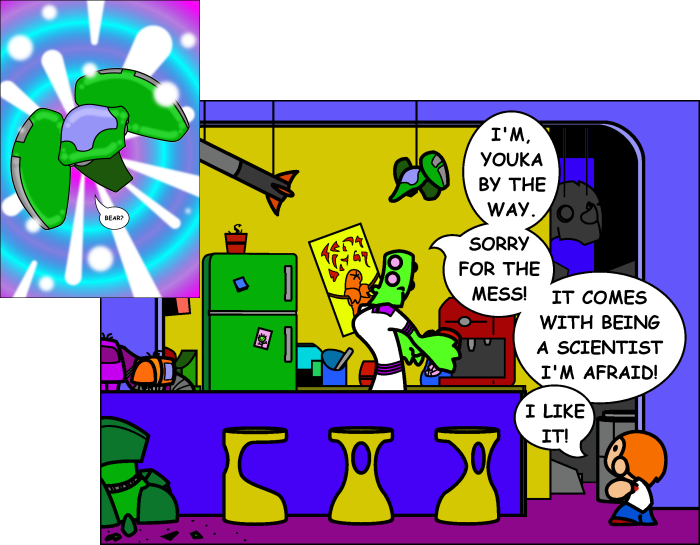 Firstly, the opening page and Youka's ship. We saw a model of this hanging in his kitchen back in issue #3.
Didn't see it? That's okay, you were probably looking at the hilarious (?) alien 'Hang in there baby!' picture on the back wall. Don't expect this to the be the last time we ever take a look back to this scene by the way…. (tease, tease, tease!).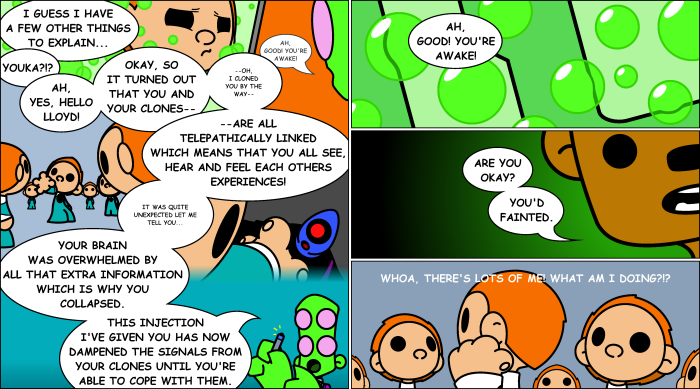 So the multi-scene shot. Okay, so Lloyd's first vision was experienced back in issue #5 just after he had fainted while trying to fix the ship with Bear.
Although he had other random visions since the group shot he saw in the opening scene of issue #9 is the one that is being referred to. Oh, also, although I haven't posted the picture of it the following panel with all the clones running at 'Lloyd' in issue #9 was when they started to join together to form Cloyd as shown in the previous page of issue #11.
(And although I'm sure you got it that was Cloyd holding Lom against the wall as seen at the end of issue #9.)
Yup, what Opo said! Seriously guys, if an Omni-spacial traveller says that part of you is missing it doesn't matter if they've found it seconds later or not! Ask them what they're on about!!!
Lom's ship really isn't looking in as good a condition as it did back in issue #2 sitting away in the background of the ship yard does it? Stupid clone stealing stupidness…..
So yeah, that's the lot! Personally, I'm so glad to get that off my chest!
I hope you enjoyed this post – come back soon as we have some exciting news to tell you!
Bear hugs!