It's my 200th post!
on
March 3, 2013
at
3:54 pm
I was just going to post some updates but then I noticed my stats and realised that this was my 200th post so figured the need to mention it!
So as I've already mentioned last weeks convention was amazing! The shot below is of our booth. I'm currently working out how to maximise our space for future events as our booth was a wee bit tiny!
We also got some requests for sketches as so took some pics of the finished work!
Firstly, my bear version of Alice in Wonderland (but, y'know, with a girl bear and not Bernard)
I was also asked to do a sketch and allowed to pick any character of my choice which turned out to be much harder than I thought but ended up going with Beary Flash.
I was also given the scary responsible (but great honour) of sketching on a blank comic cover and went with this shot of Green Lantern Bear (come on DC, give me some more characters who I can pun!)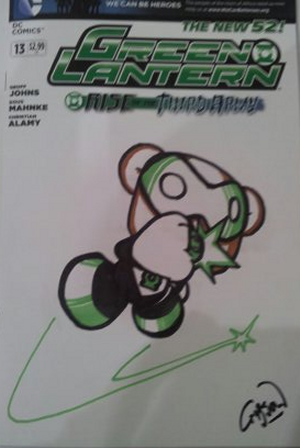 I also did a sketch of Husk from Generation X but totally forgot to take a picture of it! If said person is out there could you be kind enough to take a photo of it and send it in? I would be so grateful!
I also got a sketch done for myself from the fantastic Nick Roche. To explain, I was after issue #17 of Green Arrow and the only copy I could get was with a sketch cover. Now, I also wanted a sketch by Nick so I figured of combining the two and getting him to draw a picture of Springer (who is, um, green). Awesome!!!!!!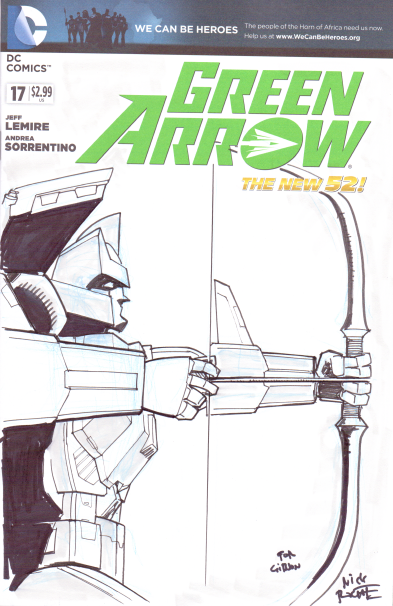 And that's all my news on L.S.C.C. done! I've been busy this week with working on #9 of LatB and also finshing a picture of Eddie Dennis for Comic Wrestling Alliance
And that's me! So yeah, I'm off to celebrate with cake now. It has to be done, right?
Bear hugs!