Belated Thought Bubble thougths!
on
December 3, 2012
at
8:42 am
Okay, soooooo sorry I haven't posted much lately but I'm now in a real rush to get issue #8 finished so I'm letting everything else slip! Whoops!
So first of all – hello! How's it going? Bit cold outside isn't it? Hmm….
Anyways, as I'd posted before Thought Bubble was amazing! This was our booth this year;
Which was a lot different from last year – check how little stuff we had back then!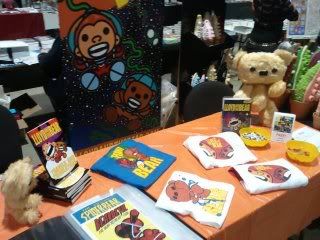 The weekend was so great and I know I'm repeating myself but it really was great to meet both new and old fans of Lloyd and the Bear! It was so great!!!!!
This was also the first time that I'd done sketches and I've posted several of them below (Oh, and just so you know, the one condition to my sketch was that it had to be bear related. Cool?).
So yeah, Stan Lee. As a bear. Admittedly you could also argue it's Commissioner Gordon but, y'know….
Han Solo!
Where there's Han there has to be Chewbacca! In case you're wondering, I always wondered what was in Chewies little hip bag. I figure donuts….
And….. Cthulhu! Hey, I didn't request it! (I really loved this one by the way)
Bear, despite being a fantastic model all weekend, still had the energy that evening to check out the Thought Bubble Anthology!
It's well worth picking up and all profits go to charity so that's not bad is it?
As for myself I've been busy not only with working on issue #8 but also doing another picture for CWA. This time it's Majikal Mike!
So yeah, been busy!
Okay, so it's back to work for me and I know I'm not posting much at the moment but don't forget to swing by when you have a chance! As we get closer to the end of the year I'll have more news for you – promise!
Take care! Bear hugs!